Testimonials
From Mr and Mrs G
Having a garden designed is quite an undertaking so it's most important to get the right qualified designer to create the garden you want. When at long last we decided to go along this route we luckily came across Christine Lees.
After listening very carefully to us Christine produced a garden design which incorporated all our requirements, brought together with her inventive ideas and creative planting. The result is an absolute joy and now this part of our garden, which was rarely visited before Christine worked her magic, is now our favourite retreat. Christine's creative flair, her horticultural knowledge, her attention to detail and her care for her customer is second to none.
Boxmoor
Hemel Hempstead
Hertfordshire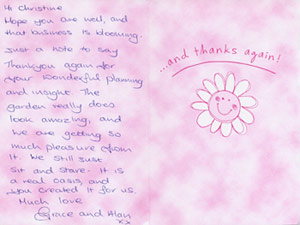 Hi Christine
Hope you are well, and that business is blooming.
Just a note to say thank you again for your wonderful planning and insight.
The garden really does look amazing, and we are getting so much pleasure from it. We still just sit and stare. It is a real oasis, and you created it for us.
Much love
Grace and Alan
Brookmans Park
Hertfordshire
Dear Christine
I thought I would write a note, following your consultation way back in February this year.
Many thanks for your guidance and I am really pleased with the outcome. I have been planning to write for some time, but I have spent a lot of time out in the garden putting into practice the ideas that came out of the discussion we had.
Regards
Mr P M

Watford
Hertfordshire
Dear Christine
I expect you thought that you would not hear from me again! The reason I waited until now was because I wanted to see how the plants and shrubs would perform in their second year, and I was not disappointed.
As you will see from the photographs, the amount of growth they had put on.
I have had many compliments. Not only from family and friends but also from callers such as trades people etc who without any prompting said how nice the garden looked!
One of the first things that took my eye in the Spring was the Euphorbia polychroma which you spaced out at intervals around the circular lawn. I thought they set the lawn off nicely!
I also liked the effect of the late afternoon sunshine on the reds, rusts and yellows of the Heleniums, Cotinus and Achilleas in the north east corner of the garden near the drive entrance!
The Roses, Clematis and Honeysuckle are doing well on the pergola. I am learning as I go with the training of the roses on the wall. The epoxy-resin stick-on plastic supports have proved not to be strong enough to hold some of the stems in place so I have had to resort to drilling and plugging.
Overall, I am well pleased with the garden in general. Thanks to your good planning and design work!
I hope you are well. Also best wishes for the year ahead!
Yours sincererly
Mr F C

Hatfield
Hertfordshire